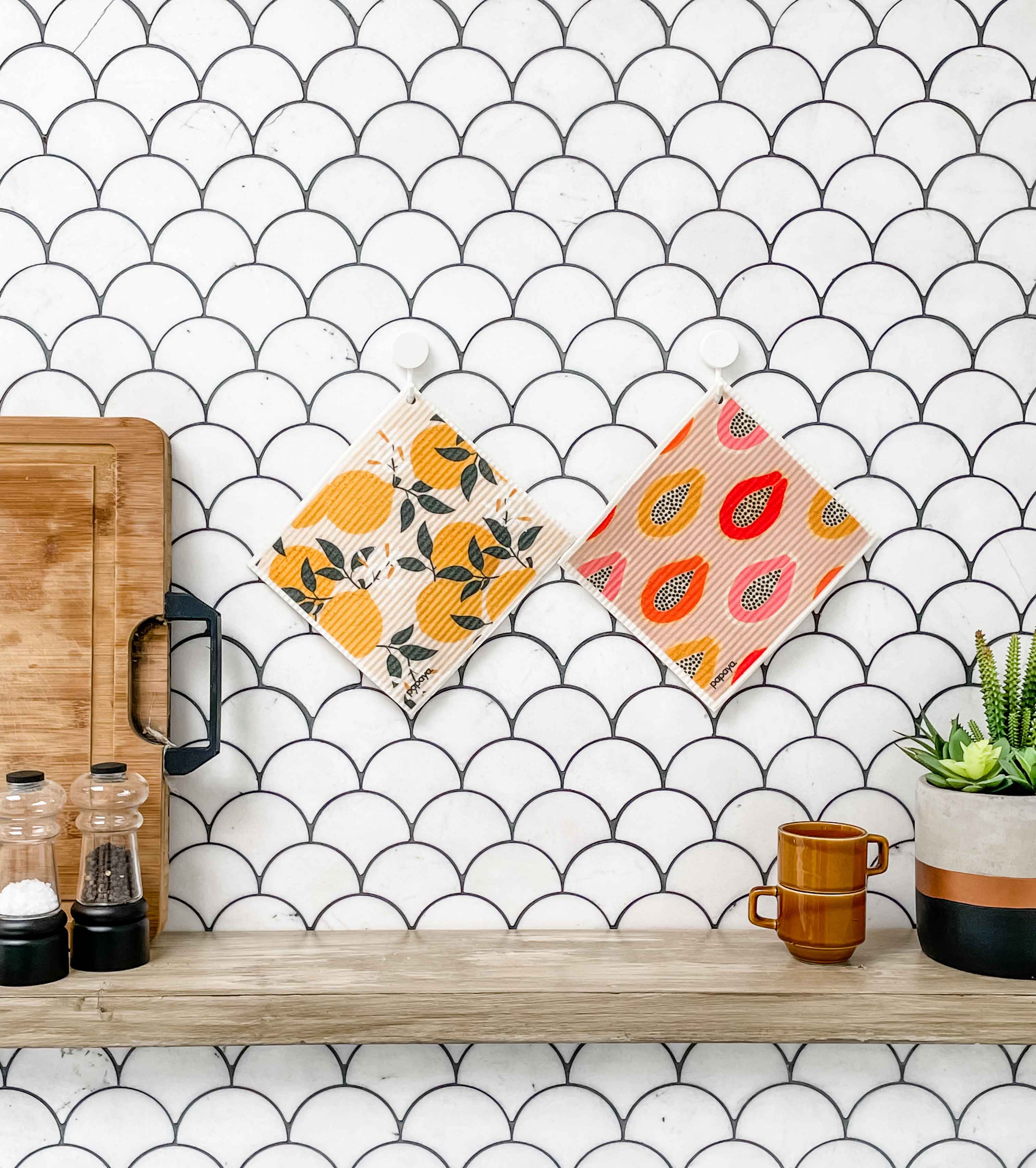 The Reusable Paper Towel that replaces 17 rolls.
All natural. Antibacterial. Compostable.
30-Day Clean Guarantee
Don't love it after 30 days? Get 100% of your money back :)
HOW IT WORKS:
Wet it
Your paper towel will feel a lil' stiff when dry. Simply wet to soften and watch it transform!
Wipe it
Use it like you would a regular paper towel! Except it's reusable, anti-bacterial, 20x more absorbent and cute as a button.
Hang it
Plus she comes with her own lil' hook! Hang after use for our no-smell, quick-dry, easy-storage solution.
97% of our customers
significantly decreased their paper towel usage!
See what else they had to say:
Awesome!!
These little sheets are amazing. They are super absorbent, rinse clean, don't smell and are cute hanging on my cupboard. Even my husband uses them! Love, love, love them.
Awrsome
Will never use paper towels again!
Love them!!
I've enjoyed mine SO much I placed orders for my daughters as Christmas gifts!
Reusable towels
These are excellent - no need to scramble to reach a paper towel since you can hang them in a convenient location in several spots. I have them hanging inside the vanity. Now there is no excuse for my husband to not wipe up his sink and counter area after shaving the tooth brushing. I have more places I'm making these available in our home!
I like it so far
I gave one to a friend. I hung mine in the kitchen. I like how it feels and it does the job. I've already washed it in the dishwasher after one week. I'm happy that it is true that it does not smell. After using it for two weeks, I will recommend Papaya Reusables
FAQS
How long does one sheet last?
One Papaya paper towel replaces 17 ROLLS of disposable paper towel! Most people like to compost and start a new one after 2-3 months of average wear and tear, but one can last up to 6-9 months depending on use!
How does it work?
Your Papaya paper towel will feel a lil' stiff when dry. Simply wet to soften, use it like you would a paper towel, rag or sponge, and then hang after use for our no-smell, quick-dry, easy-storage solution!
What are they made of?
Papaya paper towels are made of 70% cellulose and 30% cotton - both natural and renewable materials! So you can toss them in the compost at the end of their lifecycle and start a new one guilt free :)
How do you wash them?
For regular everyday use, hand-washing with soap and water does the trick. For a deeper clean (approx. once a week) you can machine wash & air-dry or place them on the top rack of your dishwasher during a cycle!
What makes them antibacterial?
Papaya's materials are super quick drying (especially when hung on our hook!). Most bacteria thrives in damp environments, so unlike dish towels, wash cloths or sink sponges that tend to stay damp and never get fully dry, Papaya paper towels dry so quickly, they inhibit the growth of that icky bacteria!
How long do they take to dry?
Your Papaya paper towels will start to dry within 1-2 hours and are typically fully dry in 3-4 hours! Unlike other materials that stay damp overnight, allowing bacteria to breed and develop that icky mildew smell.